Welcome to another installment of a new feature on aboutKensington.com. Today, we highlight Feet of Dreams, a footwear boutique on Colusa Circle. Links to previous features can be found along the left-hand side of the page.

FOOT TRAFFIC. Every retail business needs it. Feet of Dreams, a trendy shoe store located at 396 Colusa Avenue — in the heart of Colusa Circle — has plenty of foot traffic, albeit most of the customers arrive in cars, coming from as far as Vallejo and Alameda to check out their selection.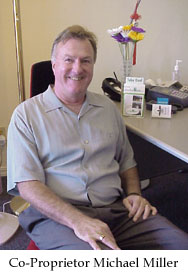 Michael Miller, co-proprietor of the store, sees the boutique as a destination for many shoe buyers seeking current styles at reasonable prices. "We carry men's and women's shoes that are both fashionable and comfortable," Miller says. "Our customers are delighted with the many unusual styles and colors we carry, and are often surprised at how affordable they are."
The store carries the wares of many famous designers, like Charles Jourdan, Stuart Weitzman, and even ties designed by local celebrity Narsai David. Miller notes that to find elsewhere some of the brands he carries, shoppers would have to travel to Walnut Creek or further.
Feet of Dreams is owned and operated by Michael and Greymuira Miller. They opened the store in October 2001: their first foray into the retail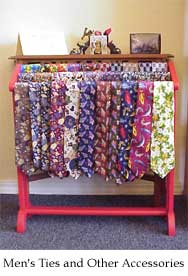 business world. As Michael explains, the impetus for the shop was "Greymuira's dream of starting a shoe store in this area, which is very underserved for the types of shoes that we provide."
The Millers see great potential for business growth in the Colusa Circle area. "I think this little area can — in some small way — rival the Fourth Street area in Berkeley," Michael says enthusiastically.
Longtime residents of El Cerrito, the Millers admire the homes and views Kensington offers. "It's really a beautiful area" Michael says. Having been in business in Kensington less than a year, the Millers have already begun looking for ways to give back to the community including support of the annual Garden Party (to benefit the Kensington Education Fund.)
Any advice on buying footwear?

"Try the shoes on!" Michael recommends. "Because every foot and every shoe is different."
"It's all about the shoes ... start with the shoes first, before you buy your clothes," he adds. "Oh, and comfortable shoes can also be beautiful!"
Feet of Dreams can be found on the Web at www.TheFeetofDreams.com.
By Aaron Gobler